---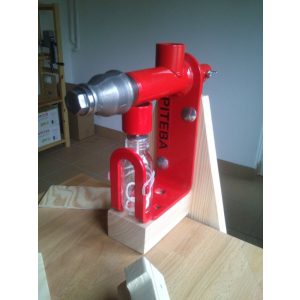 The PITEBA oil press must be fixed to a stable surface with screws. Since a hole has to be drilled in the surface for this, neither the kitchen table, nor the kitchen cupboard, nor the kitchen counter is really suitable for it.
Therefore, we have made a wooden fastening device with which the oil press can be easily mounted on the tabletop, kitchen counter or kitchen cabinet and dismounted again. The top should be between 2-4 cm thick and stable.
The package contains all the screws and nuts to attach the wooden construction to the press. You only need a 13 mm spanner to assemble it. This construction is a so-called wooden clamp, it can be assembled and disassembled in seconds and does not leave any scratches on the table top, even from below.
Reviews of the product
Be the first to review this product!