---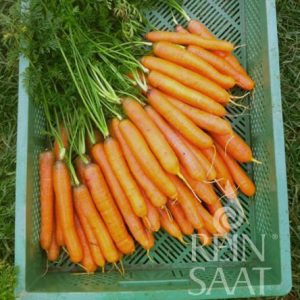 Daucus carota L. ssp. sativus
Hosszú, kerek, tompa végű répák zöld nyak nélkül. Sima, könnyen mosható héjjal. Lédús és édes, intenzíven piros, középes kicsiny, egyszínű béllel. Jól tárolható. 
Üvegházba január elejétől február végéig, szabadföldbe március elejétől
június végéig vethető. 
Július elejétől október végéig szedhető. 
A répalégy ellen szeles helyre tanácsos ültetni, amelyben nincs friss humusz, vagy le kell takarni. 
Tőtávolság: 
30–40x 2–4 cm
Vetési mélység: 1–2 cm
Tasak tartalma: 5 m
Ellenőrzött ökológiai gazdálkodásból. 
Reviews of the product
Be the first to review this product!